"The Art and Science of CSS" Kitabını ücretsiz indirin!
SitePoint sitesi 29.95$ değerindeki kitabı kısa bir süreliğine (bugünden itibaren 6 gün kaldı) ücretsiz indirmenize olanak sağlıyor.
Yapmanız gereken tek şey
Twitter hesabınızdan sitepointdotcom 'u takip etmek.
Twitter hesabınız yoksa Twitaway linkine tıklayarak sapdaki alana mail adresinizi yazın. Gelen konfirmasyon maili sonrasında pdf yükleme linki mailinize gelecektir.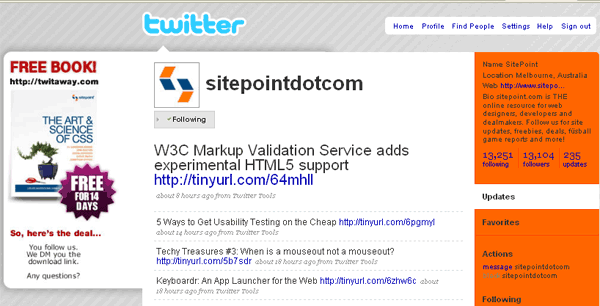 208 sayfalık kitabın bölümleri ise şöyle:
Ch a p t e r 1 Preface
Ch a p t e r 1 Headings
Hierarchy
Identity
Image Replacement
Flash Replacement
Summary
Ch a p t e r 2 Images
Image Galleries
Contextual Images
Further Resources
Summary
Ch a p t e r 3 Backgrounds
Background Basics
Case Study: Deadwood Design
The Future of Backgrounds
Summary
Ch a p t e r 4 Navigation
The Markup
Basic Vertical Navigation
Basic Horizontal Navigation
Tabbed Navigation
Variable-width Tabs
Advanced Horizontal Navigation
Summary
The Art & Science of CSS
Designers, earn extra cash! Visit 99designs.com
The Art & Science of CSS vii
Designers, earn extra cash! Visit 99designs.com
Ch a p t e r 5 Forms
Accessible Form Markup
Form Layout
Required Fields and Error Messages
Summary
Ch a p t e r 6 Rounded Corners
Flexibility
Experimenting with these Techniques
Summary
Ch a p t e r 7 Tables
The Structure
The Styling
Table Elements in Action
Using JavaScript
The Future
Summary